Ideal for New Believers
This new condensed overview of the Bible by Cyril Dymke is ideal for new believers. It is written in easy-to-read language with the purpose of introducing people who perhaps have never read the Bible before (or at least not completely) to the common thread that is found throughout scripture.
The Bible consists of 66 books by various authors from different backgrounds,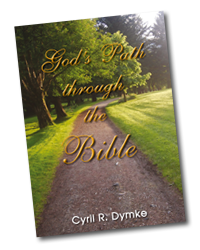 incuding kings, shepherds and fishermen, over a period of approximately 3000 - 4000 years. Whilst one would expect to find vast differences in such a work, it is not so, as Cyril points out. There is a common thread throughout scripture - God's Path through the Bible - simply because it is God Himself who is its author.
2 Peter 1:20-21 says, "Knowing this first, that no prophecy of the scripture is of any private interpretation. For the prophecy came not in old time by the will of man: but holy men of God spake as they were moved by the Holy Ghost." KJV
Download or view online
To download a copy, click the download button below

To view online, click here (will open in a new window)